Richmond, California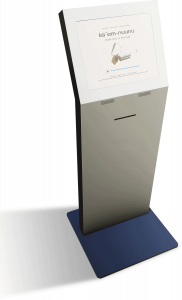 The Richmond Museum of History and Culture has announced its newest interactive exhibit offers Bay Area residents the chance to learn to speak Chochenyo — one of eight language dialects of the East Bay Ohlone people—while also discovering more about this Native American culture.
"The Native American Advisory Council consists of Ohlone people from all over the Bay Area," said McCrary about the exhibit. "With a grant from the California Humanities Council, the Museum was able to create a kiosk with a 55" touchscreen monitor where visitors can read and hear Chochenyo spoken by Ohlone language specialist Deja Gould."
The new display is the brainchild of museum Director Melinda McCrary, who spent half a decade working with an advisory group of Bay Area Native people to develop an interactive exhibit that introduces Chochenyo, a dialect of the East Bay Ohlones, stated the museum. Richmond web designer Kimberly Paternoster built the software and Native American artist Beatrice Oregel created the display's drawings and artwork.